Thanks! And there's more where that came from...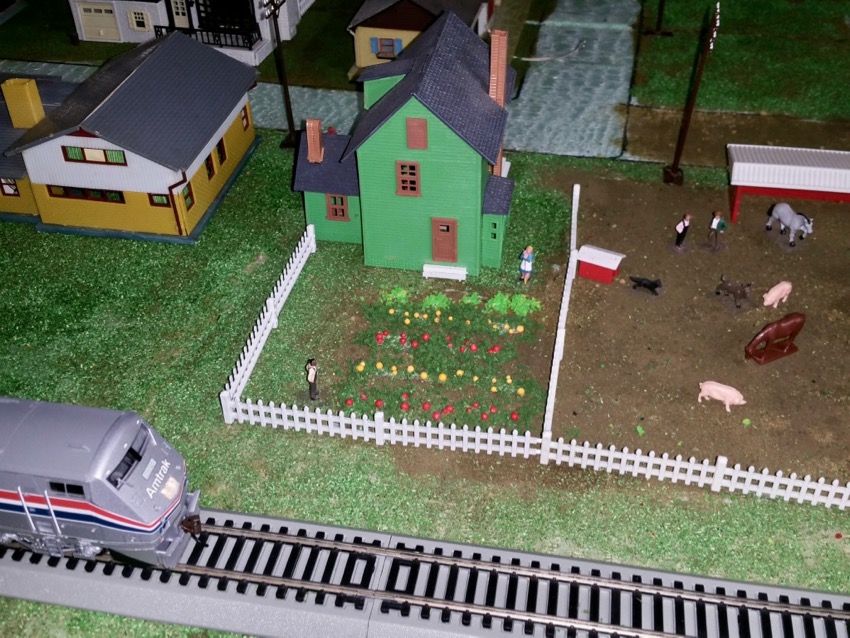 I've added a vegetable garden to the farm! It's from a Bachmann "Scenic Classics" kit from cira 1979. It was kind of tricky applying the "vegetables" to the garden, but I am pleased with how it came out. The kit was missing the little wooden poles to apply tomatoes to, but I suppose I can make them myself. It also came with a couple of unpainted figures, wheelbarrow and a PINK tree. (What was Bachmann thinking back in 1979?) Maybe I'll get around to painting the figures at some point; I have the paints I would need already...
Some action at the commuter train station platform next to the coal yard and gas station.
Since the switches and trains were currently configured not to run on that outer curve in the photo, I placed my TYCO crane car and boom tender there for now. (Again, I went with the Santa Fe versions from the 70s to fit with my BNSF freight trains.)
Camping underneath the railroad line here! The brakeman figure you see is, again, to mark an undertrack magnet for any freight operations with the nearby logging mill.
An overview of the residential area, along with the gas station, some of the coal yard, two of the schools, the library and church, and the TYCO Freight Unloading Depot and Lighted Signal Crossing.
I thought seeing the Amtrak train going around the curve through the woods looked pretty cool, so I figured I'd get a shot of it. As for the trees, I may get pins to drill into the bottom of the trunks after clipping the bases to "plant" them into the ground firmly.