Time for another post from me about a vintage Bachmann model train product! This time it's about their "Scenic Classics" line...
In 1979, when Bachmann started making landscaping products as part of their model train line (a precursor to their SceneScapes line) they also came out with the "Scenic Classics" line, which included a Plasticville building kit or similar accessories and some landscaping (to be set on a small square grass mat).
It was a pretty neat concept, especially for young model railroaders who were starting out in wanting to do landscaping.
The back side of the box; same as on the boxes for their action accessories of the time. Believe it or not, Bachmann still sells some of their operating accessories in the older late 70s box style from time to time, just with the product number updated. At the hobby shop I often go to, I've seen the Wayside Steam Whistle Warehouse sold in the original 1980 packaging style, complete with the back showing some of those long-discontinued products. Talk about a throwback! (The only products seen here still made by Bachmann include the dual crossing gates and blinking bridge (now modified to work with E-Z Track) and the diesel horn oil tank.)
Here are links to old catalog images showing different Scenic Classics kits...
http://hoseeker.net/bachmanninformation/bachmanncatalog1979pg17.jpg
http://hoseeker.net/bachmanninformation/bachmanncatalog1980pg28.jpg
Then in 1982, Bachmann refreshed the line into the "Lighted Scenic Classics," where the included Plasticville kit would also include an interior light unit to be set up in the building. Bachmann also made them in O-scale as well.
Bachmann eventually discontinued them after the 80s. But I know Life-Like had also come out with their own equivalent in the 80s, with their "Build-a-Scene" kits, which remained available until the early 2000s.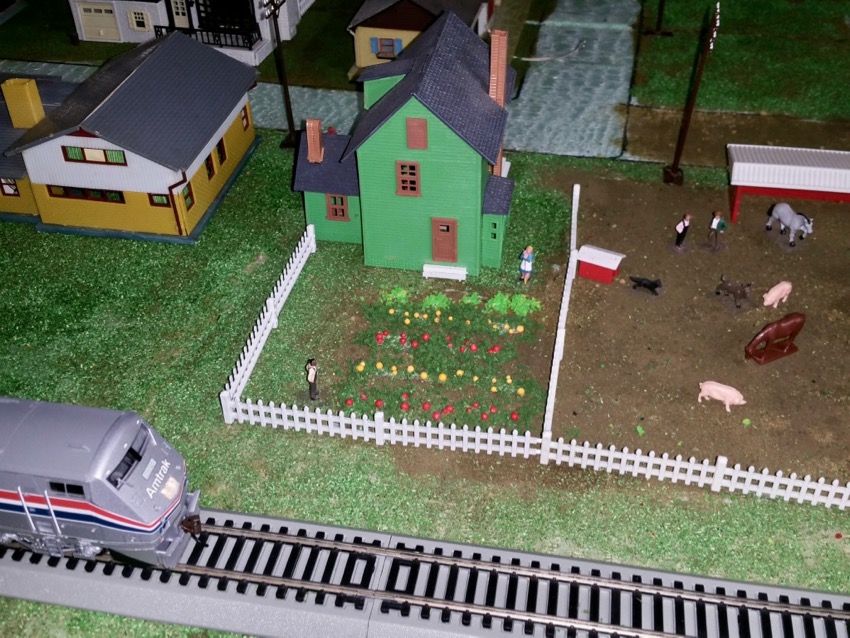 Here's how I put the vegetable garden together on my layout! I didn't need to use the little grass mat, since I already applied ground cover to the layout (i.e. I paint the foam surface in an earth color and sprinkle on the ground cover material while the paint is still wet.) It was kind of tricky applying the "vegetables" to the garden, but I am pleased with how it came out. The kit was missing the little wooden poles to apply tomatoes to, but I suppose I can make them myself. It also came with a couple of unpainted figures, wheelbarrow and a PINK tree. (What was Bachmann thinking back in 1979?) Maybe I'll get around to painting the figures at some point; I already have the paints I would need...
I think it'd be cool if Bachmann brought back something like this on the market. Of course the landscaping materials would the newer (and much better-looking) SceneScapes variety, and several of those Plasticville kits and accessories are still in production. After all it's neat how Bachmann makes some interesting kits and packages for beginning modelers to expand their train sets (like the new E-Z Track siding sets coming out this year.)