Huh! I was getting frustrated, because it seems like no matter how I shifted things around, I always ended up with two locations that didn't line up. Then it clicked, using the 2" pieces on all four sides of the 90deg crossing was the problem. Calling the top of the layout 'North', changing the NW leg to 2.5" and the SW leg to 1.5" almost brought everything together.
Up in the NW corner of the layout, in the area circled in red, replacing a 2" section with a 2.25" piece and moving it to the other end of the 18" curve did the trick.
The gap between the NE leg of the 60deg crossing and the first curve is 8.83", but a 9" straight will work as the slight kink created can be spread around the rest of the loop and not be noticable.
Some minor changes to the riser layout will be needed, but nothing significant. I used the Atlas Code 100 Deck Truss Bridge, because I find the trusses of a Warrent Truss Bridge tend to get sideswiped by longer cars when placed right after 18" radius curves.
The Grand Valley layout using EZ-Track (See the track plan on the WS site mentioned above for tunnel portal placement):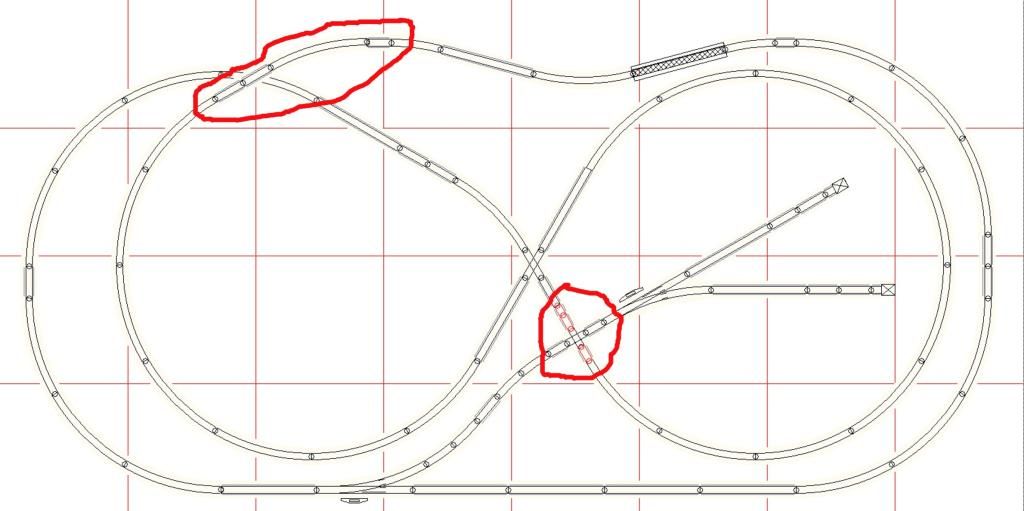 Track list for EZ-Track Version of the Woodland Scenics Grand Valley layout
QTY DESCRIPTION
(11) EZ 44511 9 inch straight
(13) EZ 44512 3 inch straight
( 3) EZ 44592A 2 inch straight
(33) EZ 44501 R-18 30? curve
( 2) EZ 44531 R-18 15? curve
( 1) EZ 44561 std LH turnout
( 1) EZ 44562 std RH turnout
( 1) EZ 44542 60? cross
( 1) EZ 44541 90? cross
( 1) EZ 44513 2.25 inch straight
( 4) EZ 44530 R-18 10? curve
( 2) EZ 44592B 1.5 inch straight
( 1) EZ 44592D 1.0 inch straight
( 2) EZ 44591 Hayes bumper
( 1) Atlas c.100 84 deck truss bridge
Total of 76 items
Enjoy,
Len